Everything You Didn't Want to Know About Me
Welcome, people! My name's Darrel W. Beach, the proprietor of this website. I hope you find your visit to this niche in the World Wide Web entertaining.
A Little Biography
These days you'll find me in the middle of Canada's wheatland, Regina, Saskatchewan. The official slogan of Saskatchewan is "Land of the Living Skies", but you may know it better as the land of flat plains and roads in dire need of repair. Seriously, though, my residence in "The Queen City" is almost like going full-circle for me, having spent my formative years in the neighbouring city of Moose Jaw.

Behind me are the days of a fresh university graduate searching for a lucrative job in the computing science field and those of a green programmer struggling to turn a contract position into a permanent one. Yep, now I'm a green programmer working a full-time position for a contract software company at a steel pipe mill. I should further point out that some of our employees (myself included) do work inside the mill plant as well. Not exactly what I had envisioned myself doing, let me tell you. While there are times I can certainly do without the noise and the grime, the work has been rewarding and, at times, quite fun. In fact, I just celebrated my first anniversary at Focus Systems on May 3rd!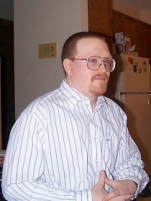 My life isn't otherwise terribly exciting; you could pass me on the street and never realize it (at least that's how it feels like most of the time.) I'm usually a shy, quiet guy, but once I warm up to people I act quite differently. In other words, you really have to hang around me for a while before you can truly appreciate the kind of person I am. I have been known to be a great listener, and I am normally very patient and congenial (I do have a few buttons you don't want to push, though.)
So, what could possibly be interesting about me? Let's see...for starters, I have an identical twin brother, Darren, who's five minutes younger than I am. I am left-handed, although you wouldn't be able to tell by my hand-writing (it slants the same way as all you righties out there, not that my hand-writing is terrible.) I love surfing the Internet and mucking around with my web pages (I'm particularly having fun designing my own graphics, which you'll notice on my other pages.) I am also completely obsessed with Star Trek (yes, pity me); not only do I watch the several series on air and read the novels, I have even been writing stories about it. (An entire section of my home page is dedicated to this pasttime, which I call The Writers' Corner.) I really enjoy participating in such sports as baseball, softball, golf, floor hockey and curling (Canada's most popular winter sport, aside from hockey.) In fact, I was this close to representing the province of Alberta at the Canadian Junior Men's Curling Championships back in 1992 (holds thumb and forefinger a centimetre apart). The team needed a couple of replacements (the two guys both suffered injuries playing, yep, hockey) as they headed into the national competition. The team's coach (who also happened to the ice-maker at my curling club at the time) didn't think my brother and I would be interested in playing. Sheesh!
Other Interests
Favorite TV Programs
The Star Trek series, with the exception to the original series (although it is good for a laugh sometimes)
Ally McBeal
The Simpsons
The Practice
Early Edition
The Drew Carey Show
ReBoot and Shadow Raiders - two half-hour animated programs (computer generated), produced here in Canada by the great people of Mainframe Entertainment
Favorite Music Artists
In the last five years I've really evolved into a country music fan (I've too soon reached the point where most modern rock music sounds like nothing but garbage to me.) You should certainly be able to tell by the following list of artists I enjoy listening to:

| | | | |
| --- | --- | --- | --- |
| Brooks & Dunn | John Anderson | Mark Chestnutt | Toby Keith |
| Diamond Rio | Shania Twain | Sammy Kershaw | Lonestar |
| Terri Clark | Amy Grant | Phil Collins | Bryan Adams |
| The Corrs | Tom Petty | Dire Straits | Wilson Phillips |
Favorite Professional Sports Clubs
Saskatchewan Roughriders (CFL football)
Minnesota Vikings (NFL)
Edmonton Oilers
Ottawa Senators
Toronto Blue Jays
Chicago Cubs
Favorite Links
Apart from the multitudes of Star Trek links I've collected (which you'll find via my other pages), I've collected another large list of fun and interesting Internet sites. You can find it here.
---
Darrel W. Beach, BSc.
Programmer/Developer, Focus Systems, Inc.
E-mail: dwbeach@sasktel.net